Warlock at NCAR Reno '96


Not for lack of tryin . . .
lessee.... last year's borrowed crop-duster engine returned to Craig Compton in Richdale... check!

racing engine re-built and tested at Aero-Engines in L.A. and running better than ever... check!

paint spattering (courteously applied without asking by an up-wind spray painter) removed from all visible surfaces... check!

prop balanced and engine tuned up for racing at John Neal's Yuba-Sutter Aviation... check!

last year's amazing 4th place finish in the gold race joins the other 15 gold and silver race finishes detailed on the fuselage by BDAA Crewman Ruhman... check!

motley crew assembled and raring to go racing (complete with semi-official looking individually customized S.T.I.N.K.I.N.G. Badges (Security Tags Indicating No Known Importance Nonetheless Groovy)... check!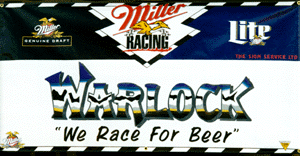 wow! we even had a Beer Sponsor! (Miller - our FAVORITE brew!) This was DEFINITELY going to be our year!... roger that!
And so the Warlock Air Racing Team made its way with the usual high spirits to the annual mountain gathering of the warbird racers - the ultimate (and only) competition for air racing's "Big Iron", the NCAR at Reno.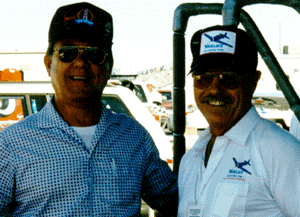 Arriving early as usual, and claiming our customary front-row pit position, the Warlock team trailer was met almost immediately by Dave Akana from Luce & Sons Distributors in Reno (and big wheel in the SERTOMA service club so important to the NCAR event!). Wasting no time in making us welcome, various custom signage and flags were arranged for and delivered, and quickly we were the "best dressed", least thirsty (and most visited!) pit on the block! The custom Warlock Logo "We Race for BEER" sign was a big hit with all concerned. The raceplane itself carried the "Miller" logo on the engine cowling into the competition.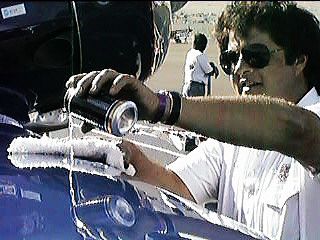 Leading-edge surface specialist and all-around MFD Carl Huber discovered the surface-enhancing qualities of our sponsor's product and is shown here applying the secret treatment in broad daylight. Luckily, none of the other teams (or tech inspectors) noticed this, as only a pilot of Al Goss's extensive skill and experience could handle the increased performance this afforded.
Practice and qualifying was done in excellent weather, with Warlock turning a 227.8 mph lap before the Exhaust Gas Temp probe went down. Without this crucial feedback, it was too risky to "push the envelope" and perhaps damage the engine. A new probe was searched for, but proved too difficult to locate and aquire before the qualifying window closed. Warlock qualified a dissapointing 222.3 mph without a functional EGT probe.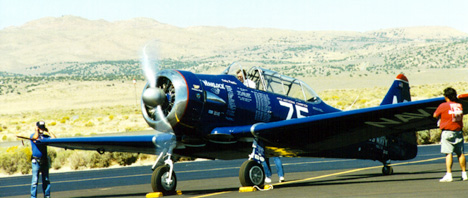 If this bothered Al Goss, he didn't show it - placing first and second in the heat races on Thursday and Saturday, the latter with a badly de-pressurized left strut threatening the landing gear. The motto of the team was crystallized when Al commented to an interviewer from Skyfire: "If we don't win this year, it WON'T be for lack of trying!"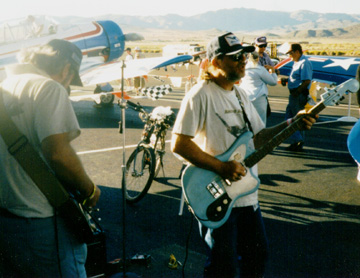 Sunny Saturday afternoon wound down with balmy temps and a spontaneous, extended "social hour" in the Warlock pit. Chips and salsa etc. were joined by a mini-hot dogs casserole liberated from an IF1 party and the Miller beer flowed. Even the legendary "Wing-Nutz" air race pit band fired up a generator, plugged in their Fenders and entertained the troops with authentic surf music and Hendrix tunes like "Little Wing". They were joined on guitar in a surprise jam by an amazed and amused Mark Johnston, the official webmeister for RARA and riffmaster inhizownrite who apparently carries his telecaster wherever he goes. Fred's "red book" of pictures of "Annie" recently posing on various aircraft made the rounds, and most folks attending or just passing by appeared to be enjoying themselves, some even after becoming totally incoherent. A sign posted by the door of the trailer read: "Only 353 days till Reno '97!"
Unfortunately, Sunday morning was all too sobering. The Reno summer had quickly dissappeared and the rains and fierce winds that closed the heat races on Friday once again threatened the big races on Sunday. The T-6 gold final race was run in cloudy skies with 35-45 knot winds blowing from the West.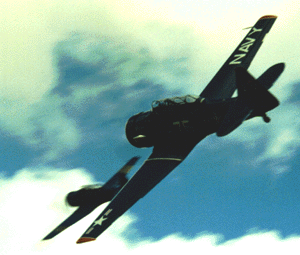 Warlock's qualifying time placed it second from the pole position, behind John Krawczyk in Mystical Power and pole-sitter Sherman Smoot in Bad Company in the starting grid. The racers had to face deteriorating weather but hung on to position until the last turn of the last lap when Al executed a thrilling pass, flying by Krawczyk to take second place at the checkered flag. This tight race for second place caught the attention of all observers, including ESPN and Skyfire productions, making Smoot's cake-walk to the finish almost anti-climactic.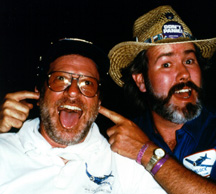 Al and the team were ecstatic with the cool racing, and Al was officially caught on film muttering "We'll be back!". The traditional awards ceremonies/dinner was held in the IF1 hanger as freezing rain soaked the airport and everything else in the Reno area. The weather didn't dampen the spirits (or the food) at the dinner, tho' and a good time was had all around. When Sandy Sanders gave Al his trophy, the extended Warlock supporters gave out the biggest cheer of the night!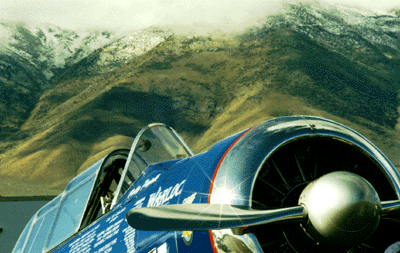 Monday morning revealed a fresh coat of snow on the hills around Stead and as the team packed up and said farewell for another year, a KC-135 tanker made a low pass over runway 26 with an F-16 "hooked up" to the re-fueling boom and the F-117 Stealth fighter flying chase. Those in attendance were suitably impressed (to say the least!) and vowed to come back and try again in '97!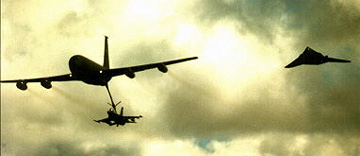 Back to Air Racing home page
page design & sponsor:



Helix Interactive Productions
http://www.warbird.com
e-mail: helix@warbird.com
all photos on this page copyright &copy 1996 H.I.P.
copyright &copy 1996 Mark Johnston
copyright &copy 1996 Don "Bucky" Dawson
copyright &copy 1996 Elmer Wilson