WARLOCK
Al Goss Tells His Tale

by Randy Goss
re-printed from Air Racing Illustrated Vol 2 Num. 1 (1992)

The North American AT-6 "Texan" first came to life as the pre-World War II designed BC-1. After several modifications to the BC-1 (Basic Combat), the aircraft became what is no known as the AT-6/SNJ. The first production AT-6A were delivered to the Army Air Corps in March of 1941.
The Navy also took delivery of these early aircraft under the designation SNJ-3. The AT-6/SNJ were used throughout World War II as an advanced trainer. They were also used by the Royal Air Force and Royal Canadian Air Force where they were known as the Harvard.
After WWII, the AT-6 was a popular surplus warbird. A good AT-6 could be purchased for around $500.00 with a full tank of gas! In the early 1950's, the Air Force repurchased many of the surplus AT-6/SNJ's and remanufactured them redesignating them the T-6G. These aircraft were used as primary trainers. The T6G was phased out of Air Force service in 1958.
The AT-6/SNJ's are now prized air show and air race aircraft, with around 500 still on the U.S. Register.
Recently, this reporter had a chance to talk to T-6 race pilot Al Goss. Al was top qualifier at Reno 1991 with a speed of 230.013 mph. He finished second in the Gold Championship Race behind four time champ Eddie Van Fossen.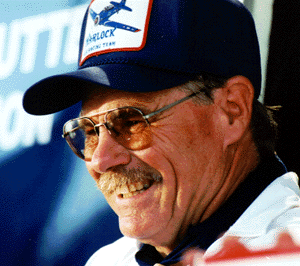 Al, can you tell us about your flying background?
I started flying in 1963, and I've been crop-dusting since 1965 - 1 have over 21,000 hours.
How did you get interested in air racing?
Well, I used to come up as a spectator with my sons and I figured, Hey, if these guys can do it, so can I. So I went out and purchased my airplane in 1978.
Can you tell us about your airplane?
"Warlock" is a SNJ-6, like I said, I got it back in 1978, that just happened to be the year there was a fatal mid-air (collision) in the T-6 Class. Due to several reasons, one a rumored liability insurance problem, the T-6 class didn't race at Reno again until 1981. So we just went to fly-ins and waited for a chance to race.
You've done pretty well at Reno.
Well yes, I finished second in 1985, 1990, and 1991. I was also third in 1982, 1987, and 1989. I've been in the Gold Race ten out of eleven years. I guess that's pretty good!
Can you tell us about some of the class rules?
We have a very strict set of rules, but everyone can do the same things. Our Pratt and Whitney R-1340's must be stock, no high-domed pistons, blower modifications, etc. Our rules do allow polishing of the induction system.
What about the airframes?
No modifications. We can flush the side panels, bondo the wings, and tape the seams, but no major airframe modifications. All of the airplanes have 42 feet wingspans and weigh around 4,000 pounds. We also have minimum and maximum lengths for our props.
These rules make for some close competition.
Yeah, in 1985 1 finished second behind Randy Difani. Randy finished 1/2 second ahead of me - not much after a 30 mile race.
You were top qualifier this year, what happened during the Gold Race?
It was really running good, we had done a lot of work on the airplane this year and we were looking forward to a good year. I was top qualifier and won both my heats, but in the Gold on Sunday, Eddie got a jump on me at the start and I couldn't catch him. The engine went south. I might have got it hot in the heats, but when we came down the hill, I pushed the power up and it was like I had a speed brake out! It just wouldn't go!!! I'm not taking anything away from Eddie, he's our class' first four time champ and a good friend. He just got by me, but we will be back next year and try it again!!!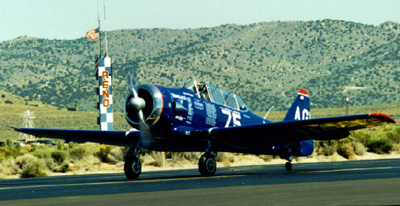 Back to Air Racing home page
page design & sponsor:



Helix Interactive Productions
http://www.warbird.com
e-mail: helix@warbird.com
all photos, sounds and videos on this page copyright &copy 1994-95 H.I.P.
permission is granted for non-commercial use.


ver. 0.2 - this page under construction!